What is Courageous Advocacy?
Courageous advocacy is the act of speaking out against an issue of injustice, often on behalf of those whose voice is not heard.
We would like to celebrate children who have been courageous advocates. If you would like to share how your child has been a courageous advocate, please email your child's year group email address e.g year3@trinitybuckshaw.lancs.sch.uk
Imogen Blayney
To celebrate the King's coronation Imogen decided her act of service would be to go on a litter pick walk around Buckshaw village.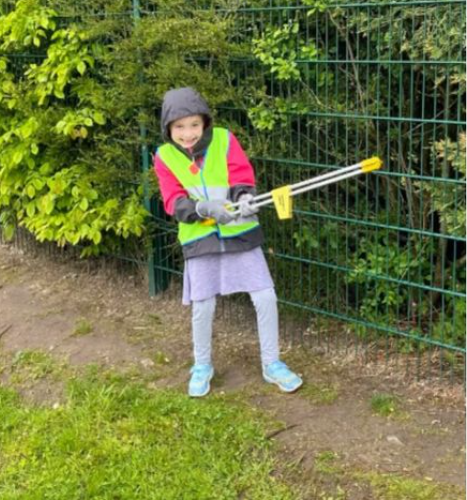 Turkey and Syria Appeal
The worship group wanted to raise money for Turkey and Syria, as they had seen the devastation that the Earthquake had caused. As a group they wrote a letter to Mrs Wright explaining why they would like to raise money. On the 10th February the school had a non-uniform day to raise money. The school raised around £1,500 to send towards the aid effort in Turkey and Syria. School also received donations from other members of the community to add to the final donations.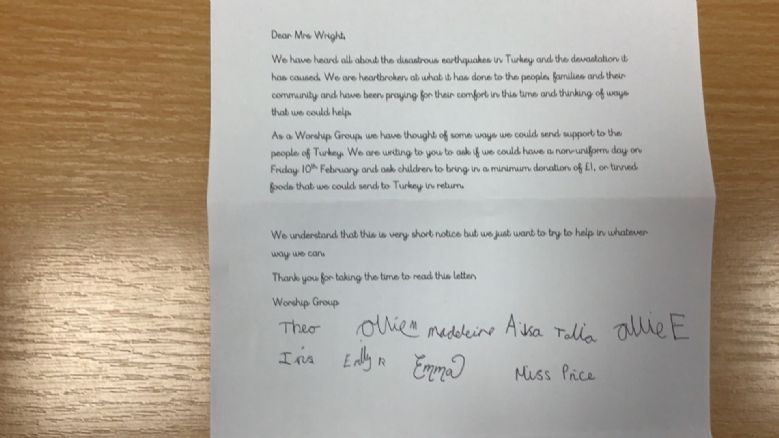 Evie - Litter Pick
After learning in school about how some people are damaging God's creation, Evie decided to conduct a litter pick around Buckshaw Village.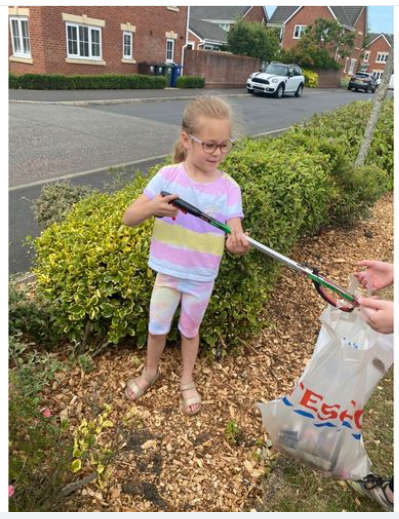 Water Aid
Year 3 raised £62 for Water aid, they wore something blue to raise money and displayed posters around school. The children wanted to raise money to support the Water aid charity after learning about the injustice in the world where some people do not have access to clean water.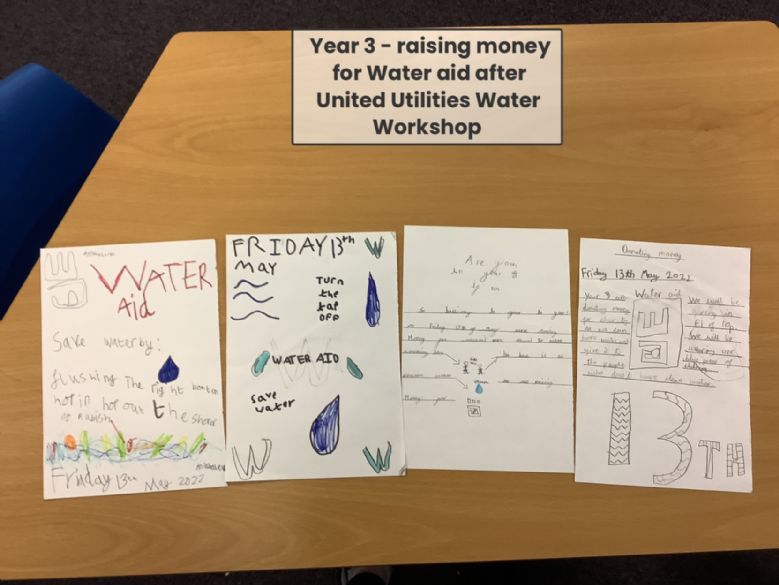 Litter pickers!
Children from Year 4 decided that they would like to litter pick around school, because they wanted to look after our school grounds. They got the equipment that they needed and did a fabulous job! Well done!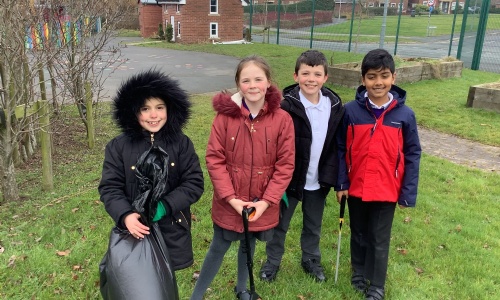 Lucy Wilson
Lucy decided that she would like to donate her beautiful long hair to the Little Princess Trust - this is a charity who provide real hair wigs to young people who have lost their hair through cancer treatments. Not only did she donate her hair, but also raised a further £570 for the charity. We are super proud of Lucy and how her generosity will help so many other children!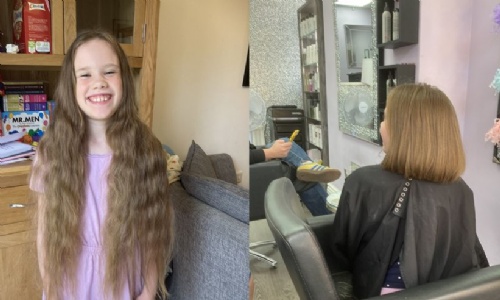 Isabelle France
Isabelle France raised £670 for the Little Princess Trust by donating her hair.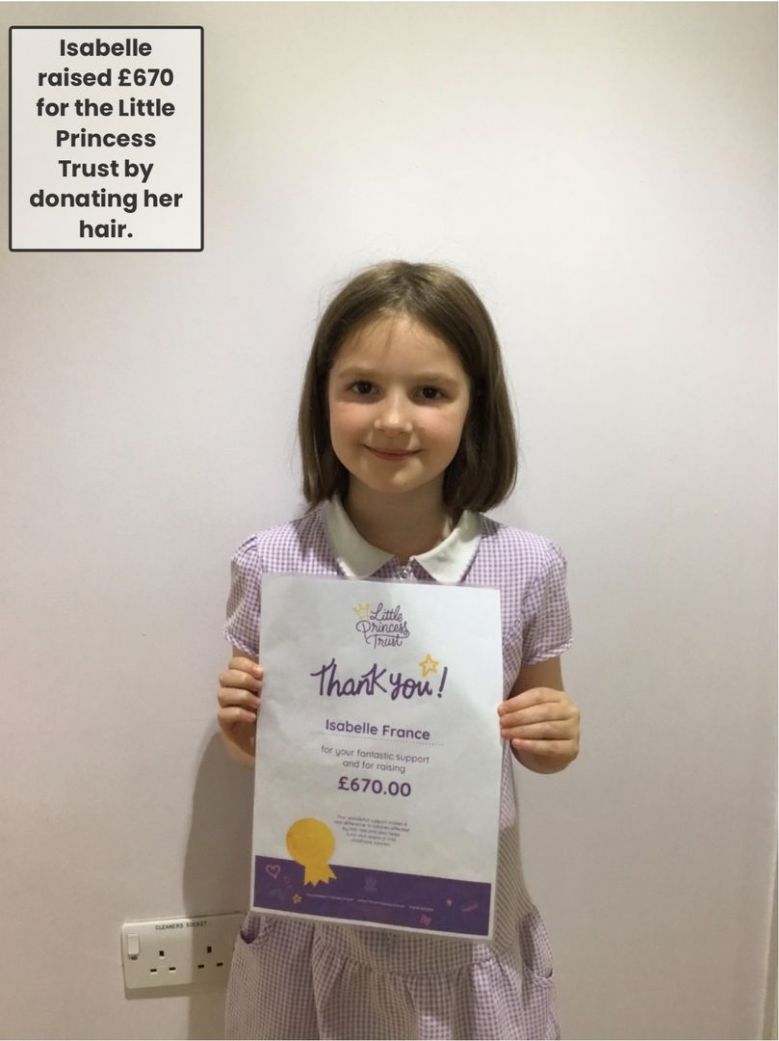 Leon Kesiak
Leon told us about how he had emailed Sir Lyndsay Hoyle, our local MP, to express his concern about the use of plastic in Chorley. Read Leon's email - would he persuade you?
Dear Mr Speaker,

My name is Leon and I am 8 years old. I attend Trinity church of England CE/Methodist primary school in Buckshaw Village and I am writing to you about plastic.

I am very worried about the health of our oceans and I am also worried about my future, due to the overuse, production and bad management of plastic. I believe that we have to do all we can to stop plastic entering the oceans by recycling more, stopping plastic at the source and using less of it in our daily lives.

I have taken a pledge to fight plastic and I now want you to do your bit of help. I would like you to fine companies that pollute the oceans and to bring in laws to stop companies giving the public unnecessary plastic and encourage companies that use single-use plastic in their products to use recycled plastic in all their products.

We also need an immediate ban on ALL single-use plastics and a simple recycling system that is the same for everyone, wherever you live. We need it now.

Can you do this for me, all of us and the future generations and the future of our planet?

Your Sincerely,

Leon Kesiak